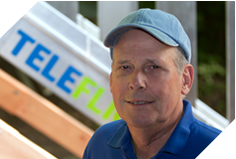 About the Teleflight Stair System
TeleFlight Stair Systems founder Richard D Walston started Walston Stairbuilders in Guilford, CT in 1972, translating the carpentry and stairbuilding skills he learned from his father into a successful business. As a Master Stairbuilder in the industry, Walston has constructed stairs in award-winning homes all over the Northeast. He is well known for producing the highest quality stairs, unsurpassed in fabrication and installation.
Beginning in 2006, Walston took up a new mission: to minimize accidents on the job site and increase productivity. Beginning as a grassroots, family endeavor, the company benefitted from other talented Connecticut craftspeople, including Rob Terry of RJT Designs who was an integral part of product development. Over five years the team developed an innovative solution for temporary stairs that would be safe, economical, easy to use and environmentally sound. The result is the TeleFlight Stair System.
Walston's dedication to his craft and his industry is reflected in the quality, elegance and usability of the Stair System he has designed. The product is proudly built in America and Walston is committed to creating more jobs as the company grows.