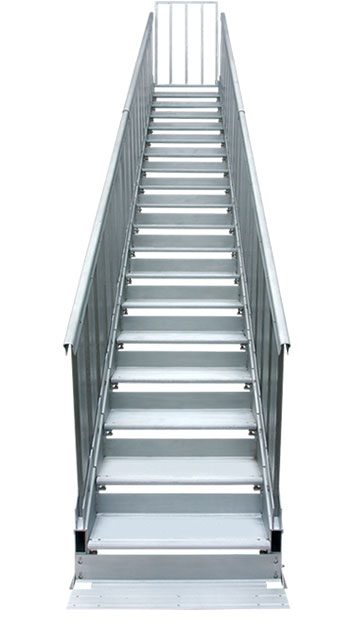 TeleFlight Stair System (TFSS-712)
The Teleflight Stair System is a revolutionary new product that offers a durable, portable, expandable, and safe stairway wherever you need one.
The Teleflight aluminum metal stairs are a lightweight and safe alternative to temporary stairs that can be reused, saving money, time, and hassle. Our DIY stairs can also be used in permanent installations wherever you need stairs.
The system features telescoping, self leveling treads that can be easily adjusted to reach various second floor heights, making it a versatile solution.
The lightweight design of the system makes it easy to move around your job site, while the durable construction ensures it will stand up to heavy use.
The system is made in the USA with high-quality materials, ensuring that it is built to last. The Teleflight Stair System is easy to set up and adjust, making it a convenient and efficient solution for any construction project. 
| | |
| --- | --- |
| Material: | ANSI 6061 extruded aluminum |
| Load Rating: | 4,000lbs / 100lbs/psf |
| Min Horizontal Run: | 96" |
| Max Horizontal Run: | 176" |
| Min Height: | 78 ¾" |
| Max Height: | 144" |
| Width: | 36 ¼" OD |
| Weight: | 750lbs. |
2 Telescoping Stringers
2 Telescoping Handrails
18 Interchangeable Tread Assemblies
Safety T-Bar
36 Balusters
Top Mounting Plate
Bottom Mounting Plate
Safety T-Bar
Top Mount Barricade
Hardware, Manual, and Parts Bag
Proudly Made in the USA
Manufactured by IS0 9001:2008 Certified Fabrication Professionals
The only UL Classified standardized fabricated stairway #2752
The only telescoping stair system to meet or exceed OSHA requirements
Provides dual fall protection barricades for assembly and disassembly
User-friendly manual in print and pdf
Rugged slip-resistant tread surfaces
Interchangeable components
Installation setting chart eliminates calculation for rise and run
Unique tread leveling fixtures on each tread
Teleflight Stair System Benefits:
At Teleflight Stair our motto is "SAFETY IS OUR PRIORITY". In 2016 OSHA increased its penalties 78% (www.osha.gov/Publications/OSHA3879.pdf) so now is the time to obtain innovative ways to keep your workers safe. Injuries cost your business both directly and indirectly through liability, fines, lost man-hours, increased workmen's compensation expenses and low morale.
Scaffolding, ladders and temporary stairs can be some of the most active and dangerous areas of a work site. TeleFlight makes temporary stairs safe and code compliant, which increases productivity and employee morale. The rugged tread surfaces are slip-resistant and dual fall protection barricades mean a TeleFlight is safe even during assembly and disassembly.
TeleFlight is the ONLY UL Classified standardized fabricated stairway. It is UL listed (#2752) and meets or exceeds all OSHA requirements. The engineered aluminum component parts are ISO and ANSI approved and held to the most demanding tolerances in the extruded aluminum business. We are proud to say the system is 100% made in the USA in Marcellus Michigan. www.fabmasters.net
A TeleFlight Stair System pays for itself after a few applications, based on the materials and time required to install a typical temporary stair. Installation is simple and consistent―faster than building a stair from scratch. Reusing TeleFlight eliminates wasted time and prevents materials from going into the dumpster at the end of every project. 
In 2007 we added an inventory cart that keeps all of the pieces organized and can be wheeled around the jobsite or lifted by a forklift.
TeleFlight increases productivity both during installation and in everyday use. Installation takes under an hour and requires minimal use of tools with our new improved teathered eyebolts with nylock nuts that are attached to each baluster, versus a day to build a traditional temporary stair, and disassembly takes just 30 minutes. Multiply that over additional installations and you will realize substantial gains in efficiency. Because a TeleFlight system is safe, secure and reliable, workers are more comfortable and can move about the site more freely.
Each TeleFlight stair system is made from 80% post-consumer recycled aluminum – an abundant resource compared with lumber. Because you use the system again and again, you are reducing the waste of building stairs that get discarded at the end of each project.